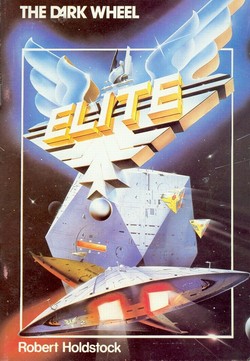 With each game in the Elite series there has been officially produced novella and other short fiction, which is perhaps also another reason for Elite's huge success over the last thirty years. For Elite: Dangerous, Frontier Developments have not only decided to continue this, but step-it-up a little too!
First, a little Elite fiction history.
In 1984 Bell & Braben released ELITE and in the box was a novella entitled Elite: The Dark Wheel, written by English novelist, Robert Holdstock (Mythago Wood is one of his better known works). Upon the 1991 PC release of ELITE Plus, another shorty story was included, [Imprint]/elite/books/imprint) written by the unknown Andy Redman
For the 1993 release of Frontier: Elite II a book of eight short stories was included, written mostly by David Massey but with a contribution each by Moira Sheehan and Kathy Dickinson, it went by the title of Stories of Life on the Frontier. It's a great read! In addition to the novella Frontier also included the Gazetteer, which is credited to Ian Bell, David Braben, Kathy Dickinson and David Massey. It's a brief guide to the history of space flight (real and fictional) and some of the more popular star systems in the Frontier Universe.
Frontier Developments continued the fictional theme with the release of Frontier: First Encounters in 1995 and included Further Stories of Life on the Frontier. These we're generally considered lesser works than those found in Frontier, and only four of the nine short stories are considered worth reading.
Now, in 2013, Frontier Developments (FD) are working on Elite: Dangerous and as hoped, they are going to add some official fiction, with a sequel to the The Dark Wheel. However, in a surprising development, a number of authors set up their own Kickstarter projects alongside FD's official one, which led to FD adding an additional funding tier - The Writers Pack - this extra promotion led to several of the book projects being successfully funded. Not only are FD helping authors with the general Elite Universe story arc and technical details, but they will also help publicise the books at the time of release of Elite: Dangerous.
Here's a list of the officially sanctioned Elite Novels;
Mostly Harmless (http://kck.st/W8BXtu)
Elite: Lave Revolution (http://kck.st/ZEKTOS)
…And Here the Wheel (http://igg.me/p/282861)
The Cost of Exploration (http://kck.st/Saf gpm)
Tales from the Frontier (http://kck.st/SXCfWP)
Elite Chronicles (http://kck.st/UmXwu5)
Elite: Reclamation (http://kck.st/Qu8VIy)
Out of the Darkness (http://kck.st/TR1urf)
Supermassive (http://pozible.com/suprmasv)
As and when more is know about the books, I'll do a write up of each one.
UPDATE: Currently there are around 30 fiction projects in the pipeline!
There are few fictional universes that take a person deep into them (Lord of the Rings is one — Terry Pratchett's Discworld is another). I'm predicting that this multitude of Elite fiction could well take Dangerous in that same direction. Either way, it's going to be a great ride.