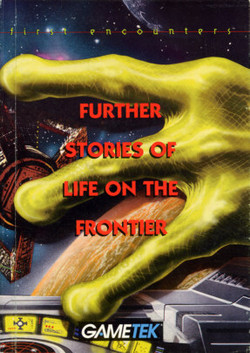 After the success of the fiction in Frontier, FFE came with a new collection of short stories; Further Stories Of Life On The Frontier, written by Manda Scott, S.L.A.M., Julian Flood, Martyn Taylor, Moira Sheehan, Jude Jones and Kathy Braben. For whatever reason, only four of these stories can be considered as being set in the Elite/Frontier Universe; the rest are just general Science Fiction.
Of those that are set in the Frontier Universe, there's the continuing hostilities between the Federation and Empire, muddied by the recently formed Alliance, and an an intriguing story involving the Sirius Corporation and another which touches on the growing discomfort regarding the INRA actions towards the Thargoids. The attempted assassination of the Emperor has an intriguing ending, and Elaine Meyer embarks on a stealth mission to recover a very unusual ship.
Table of Contents
The Acrobat in Black by Manda Scott
Faust by S.L.A.M.
Children Of A Greater God by Julian Flood
A Business Proposal by Martyn Taylor
Inevitable Consequences by Moira Sheehan
Genuine Thargoid by Moira Sheehan
Ruined Blood by Jude Jones
Invisible Enemy by Kathy Braben
Lucifer Falling by Julian Flood
Although four of the nine stories are set in the Elite Universe, only two of those have anything to do with space ships – they also happen to be my favourite; Faust and A Business Proposal.