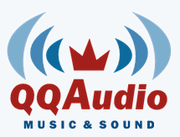 Company name: Quality Quartet Formed: 1995- Nationality: Dutch
Official Website: www.qualityquartet.com
Writing the 9 pieces for Frontier: First Encounters (Elite 3) was the very first commercial project Quality Quartet were hired to do. Since then they have focused on music for advertising and other media, though they do occasionally still do multimedia/game work.
Ivo, has a broad range of musical styles including everything from jazz to headstock. Graduated with a MA in Sound & Music Technology in 1997. Also writes for the music technology illustrated magazine Interface.
Finn, in his CD cupboard you can find music ranging from Gangsta-rap to Coldplay. Graduated in 1998 with a BA in Production and Recording.
The other two members, Jasper Swart and Daniel Baars, no longer work for Quality Quartet.
Works Include
Alien Encounters
Atmosphere
Drama
Escape
First Encounters Theme
Paradise
Rock
Suspense
Travel
Related Links